DUNNES STORES – ADVERT – 2021
The advert featuring Aisling & Sive Doyle has been renewed
HIGH & DRY – SHORT FILM – 2021
The film featuring Ben Carolan will be screened at the Waterford Online Film Festival
WOODIES – ADVERT – 2021
The advert featuring George Bracebridge has been renewed for another year
BROWN BAG – ANIMATION – 2021
CONGRATULATIONS to Ryan Keogh and Charlie Duffy who have been cast in main roles in an exciting new animation with Brown Bag Films
ARIA – TV OPERA PROGRAMME – 2021
Ami Hewitt is featured solo opera singer on this weekly show which is currently airing in the Netherlands
LOVE'S PORTRAIT – FEATURE FILM – 2021
Kathryn Mc Kiernan and Siobhan Shanahan both have featured roles in this new USA Produced feature film that was shot recently in Kilkenny
X MARKS THE SPOT – SHORT FILM – 2021
The film featuring Aisling and Sive Doyle aired on RTE on Oct 25th
THE LETTERS – FEATURE FILM – 2021
Robbie Kane recently attended the premiere of this film. He played the part of a Journalist in it
VODAFONE – ADVERT – 2021
Aisling Doyle is featured. This will be on our screens soon
VOICE OVER WORK FOR FILMS – 2021
Aisling Doyle, Sive Doyle, Marley Nolan, Max Carolan, Dylan Fitzmaurice Brady & Isabella Dunne all did voiceover work for the following various films: THE WOLFPACK; AM PIANO; THE BIKER; MONKEY BUSINESS
DUBLIN CREDIT UNION – RADIO – 2021
Robbie Kane recently lent his voice to the advert currently playing on Sunshine FM
CHRISTMAS EXPERIENCE AT TAYTO PARK – EVENT – 2021
John Power & Killian Garvan have been cast as Santa Claus and Michelle McCrossan as Ms.  Claus
LIBERTY TOURING SCHOOL PANTO – 2021
Adam Redmond has been cast as one of the leads in this exciting project
JUNK KOUTURE – EVENT – 2021
Congratulations to alumna Orla Morris Toolen on being the new presenter and co producer of Secondary School Competition JUNK KOUTURE. Orla was also featured on the recent documentary about it on RTE.
LAYA HEALTHCARE BEAT CAMPAIGN – ADVERT – 2021
Ben Condron is featured
SUPERVALU – ADVERT – 2021
Aisling Goodwin has been cast as MOM. This will be on our screens for Christmas
PROPERTY CAMPAIGN – 2021
Amelia Lily Cray and her Family are featured
HSE – ADVERT – 2021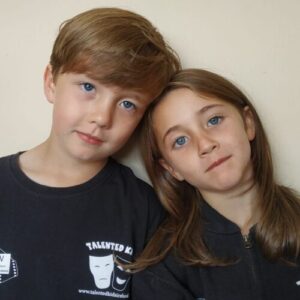 Caleb & Myah Mason are featured and will be on our screens soon
DO I KNOW YOU – SHORT FILM – 2021
The film featuring Robyn Dempsey was recently screened at the Gaze Film Festival in the Lighthouse Cinema in October
BANK OF IRELAND – ADVERT – 2021
Robyn Dempsey is featured
HERSELF – FEATURE FILM – 2021
Featuring Aaron Lockhart as Tomo, The Film went on Nationwide Release in September
RABBIT ACADEMY – ANIMATION – 2021
Susie Power, Phonsie Wardell, Lucy Carolan, Eoin Daly, Callum Maloney & Emma Jenkins all did Voiceover work for this project
ELECTRIC IRELAND – ADVERT – 2021
The advert featuring Sive Doyle has been renewed
YOM KIPPUR HEALING WATER – RTE – TELEVISION – 2021
Leah Carruth was recently featured in a reconstruction in this religious program
APACHE PIZZA – ADVERT – 2021
Ben Carolan is featured
KIN – TELEVISION – 2021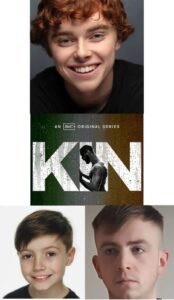 The TV Show featuring Ben Carolan as Glen Wright, Kyle Bradley Donaldson as Clayton Finn and Dylan Fitzmaurice Brady as Luke Cunningham premiered on AMC+ in the United States and then on RTE in Ireland a few days later. It has received critical acclaim
SNOW WHITE & THE SEVEN DWARFS – LIBERTY PANTO – 2021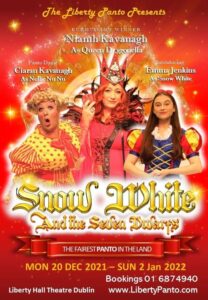 Emma Jenkins stars as Snow White and Adam Redmond stars as Muddles. Shows start from December 20th
IRISH NATIONAL OPERA PROJECT – 2021
Nicole White is featured in 2 of the INO exciting street events
NOVA JONES – TELEVISION – BBC & RTE – 2021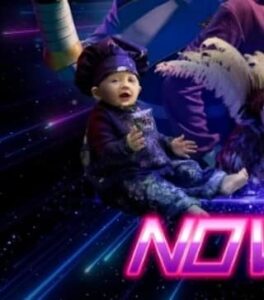 Premiered Sept 2021. Ace Bradley Donaldson stars as Chef Din-Dins
REDEMPTION – ITV TELEVISION – 2021
Evan O'Connor will be featured in one of the leading roles LIAM for this new Exciting TV Drama Series to be screened soon
FAIR CITY – RTE – 2021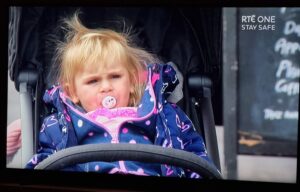 Delighted to see our little Lucey Duffy back in Fair City as OLIVIA. Looking forward to seeing Ryan Keogh reprise his role as JACK soon
THIS IS ART CLUB – TELEVISION – 2021
Susie Power is a reporter, collaborator and presenter on this upcoming Art Show for RTE
CHECKERED NINJA 2 – VO animation – 2021
Ava Connolly & Eoin Daly reprised their roles in the follow up sequel
PIGGY – ANIMATION – 2021
Elsie Akinduko voices Piggy
ODO – ANIMATION – 2021
Julia Dillon voices the lead role of Doodle which is currently airing on channel 5s MILKSHAKE
AIB – ADVERT – 2021
Orlaith Ni Chearra is featured
FRANZ – ANIMATION – 2021
Jacob Mason, Phonsie Wardell & Robyn Dempsey all voiced roles for this promo Robyn voices Gabi; Jacob voices Eberhard and Phonsie voices FRANZ
PANEBARCOS – TELEGAEL – 2021
Robyn Dempsey is featured in this pilot episode
MIKADO at the NCH –  OPERA – 2021
Congrats to Katie Weir who was featured as PEEP BO in this fab production recently with Lyric Opera
KERRYGOLD – VO ADVERT – 2021
John Power was cast
THE PIPER – FEATURE FILM – 2021
Aoibhe O'Flangan flew to Bulgaria for several weeks to film the leading role of ZOE in this new exciting Horror film
ROBINSON – RUSSIAN TV SHOW -2021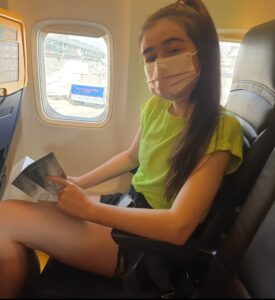 Robyn Dempsey flew to Cyprus recently to film for this new TV show. Maddy Joy was also cast
LENSMEN PROMO VIDEO/STILLS – RENTAL PROPERTY CAMPAIGN – 2021
Michelle McCrossan and her partner and son were featured in this online campaign
CRIME RECONSTRUCTION – PENINSULA TELEVISION – 2021
Jonathan Michael Talbot featured in 2 roles. Adam Redmond was also cast
MI WADI – ADVERT-2021
Callie Weir & Julia Dillon are both featured VO artists
GALWAY FILM FLEADH – FILM FESTIVAL – 2021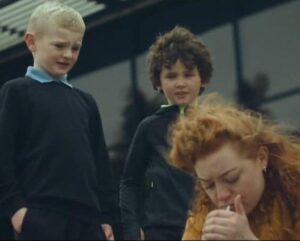 Rest in Jellies film premiered at this festival. Charlie Duffy and Hughie Blacker are featured
IRISH WOMAN IN HARMONY – MUSIC VIDEO 2021
Ace Bradley Donaldson and his mum Natalie are featured in the ONLY A WOMAN music video
THE LIFE SHOW – TELEVISION – IADT 2021
Megan McDermott was the co-host alongside Brendan Courtney interviewning (and roasting!) Senator Malcolm Byrne
THE CELLAR – FEATURE FILM- 2021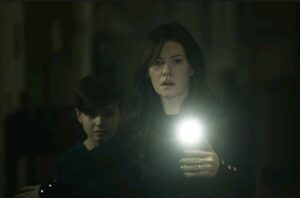 Dylan Fitzmaurice Brady has been cast as STEVEN one of the leading roles alongside 24 star Eliza Cuthbert in the new Horror Feature film by Brendan Muldowney
DIAL M FOR MAMMY – WEB SERIES
Robbie Kane guest starred as one of the neighbours to Mammy
NORTHERN IRELAND TOURISM – PRINT CAMPAIGN – 2021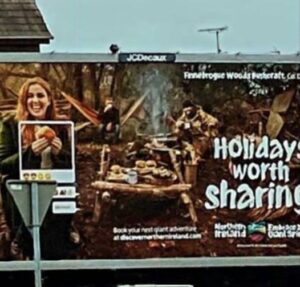 Audrey & Darragh Carolan are featured
MYA GO SERIES 2 – RTE 2021
Susie Power was delighted to be welcomed back to voice various characters on the 2nd series
ALL CARE HEALTH – CAMPAIGN – 2021
Ace Bradley Donaldson and his Mum Natalie are featured
FAIR CITY – TELEVISION – 2021
Susie Power reprised her role as little brat Ellie Daly; Charlie Duffy was recently on our screens also as Junior
MATILDA – FEATURE FILM- NETFLIX – 2021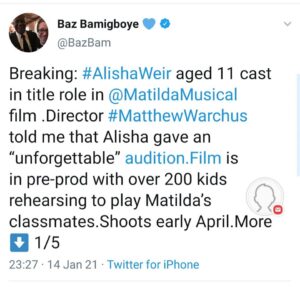 Starring our ALISHA WEIR as MATILDA, alongside EMMA THOMPSON, STEPHEN GRAHAM & LASHANA LYNCH, the film has received a release date of December 2022 on Netflix with a cinema run in the UK and Ireland. Tim Minchin in an interview with The Times describes Alisha as: THIS KID IS JUST MESMERISING!!!
https://www.facebook.com/MVWTALENTAGENCYIRELAND/posts/todays-thetimes-interview-with-timminchin-who-describes-our-alisha-weir-who-star/1992693337544457/
DUBLIN LITERARY AWARD – READING – 2021
Maddy Joy performed an extract from Dublin Literary Award winning book Lost Children Archive on RTE News Today. Hallie Ridgeway and Donking Rongavilla were also featured readers.
THREE MOBILE – ADVERT – 2021
The advert featuring Caleb Mason won an Advertising Campaign Award
TESCO – ADVERT- 2021
Eliza Wardell featured in the Tesco Advert in May. Sophie Rowe was also cast
https://www.facebook.com/TescoIreland/videos/191786179455074/
GAA – ADVERT – 2021
The advert featuring Jonathan Michael Talbot has been renewed
DEEP SHOCK – SHORT FILM – 2021
Congratulations to George Bracebridge on winning Best Actor for this role in Deep Shock at the New York Film Awards. He also won Best Supporting Actor at the Brazil International Monthly Independent Film Festival
PROVISION – FEATURE FILM – 2021
John D'Alessandro plays the role of IPO Security Guard
NOCEBO – FEATURE FILM – 2021
Donking Rongavilla is featured
DARKLANDS – TELEVISION – 2021
Darklands featuring our Kyle Bradley Donaldson and Alisha Weir was reshown on Virgin Media One
LATE LATE SHOW – TELEVISION – 2021
TK alumna Seana Kerslake was a guest
SING STREET – FEATURE FILM – 2021
Featuring Ben Carolan as Darren it aired recently on RTE
A SUNKEN PLACE – SHORT FILM – 2021
Eabha Moore filmed additional footage for this film scheduled for release in early 2022
RTS TELEVISION AWARDS – 2021
Tina Times Two starring Robyn Dempsey as Tina won an award for Best Children's Programme and Robyn was featured on zoom accepting the Award
RESEARCH AND DEVELOPMENT FOR NEVER MIND THE WEATHER – THEATRE – 2021
Luke Andrew Feeney participated in this alongside Orlaith Ni Chearra
BROKEN LAW – FEATURE FILM – 2021
The film featuring Robbie Kane went to Netflix earlier this year
DONNCHA'S TWO TALENTED – RTE – 2021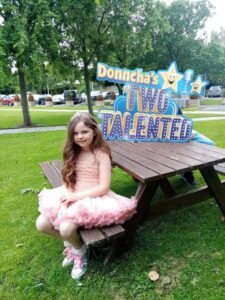 Holly Gibson performed on the show with her mum Linda
DUBLIN INTERNATIONAL FILM FESTIVAL – 2021
We were delighted to have the following actors in films being screened at this years online Dublin International Film Festival:
Robyn Dempsey in TINA TIMES TWO
Brandon Boyle in I NEVER CRY
Tighe Wardell & Phonsie Wardell in
short film THE INVISIBLE BOY
George Bracebridge in short film
FISHING FOR LOVE
STRANGERS WITH GUNS – MUSIC VIDEO – 2021
Joe Stalford featured in a music video from band Strangers With Guns. All proceeds raised went to Pieta House
FAIR CITY – TELEVISION – 2021
Holly Battle debuted on the show as Saoirse Halpin Dillon
SAFE IRELAND CAMPAIGN – 2021
Caleb Mason was featured in the Safe Ireland Campaign which was also featured on the RTE 9 O'clock News in January
https://www.facebook.com/595476803874793/posts/3618477848241325/