CARDBOARD GANGSTERS – FEATURE FILM – COMING TO NETFLIX – 2018
Cardboard Gangsters featuring Kyle Bradley Donaldson & John Dallessandro is coming to Netflix on Tuesday February 6th
KATIE WEIR – PEACE PROMS – 2018
Katie Weir has begun touring with Peace Proms which has already taken in such venues at a SOLD OUT Echo Arena in Liverpool.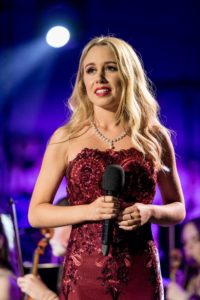 Stunning Soprano Katie Weir – short clip from Over the Rainbow 👏🏻👏🏻👏🏻🌈🌈 #PeaceProms18

Posted by Sharon Treacy-Dunne on Sunday, February 4, 2018
LONDIS – ADVERT – 2018
Katie Weir & Emma Jane Weir are featured in the new Londis Advert as Sisters
IFTA NOMINATIONS – 2018
We are delighted to have so many students & clients involved in nominated Films & TV. These include:
Cardboard Gangsters
Michael Inside
The Secret Market
Paula
The Man Who Invented Christmas
Also Congratulations to our past students: Niamh Algar who has been nominated for Best Supporting Actress & Niamh Glynn who has been nominated for Make-Up & Hair
MISS SAIGON – THEATRE PRODUCTION – 2018
After his fantastic run as Tam in the Bord Gais's Miss Saigon, Chael Ancheta is delighted to be the featured Tam in The new Miss Saigon Brochure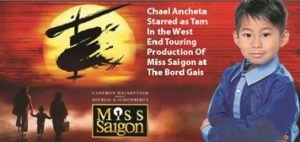 FRITZI – ANIMATED FILM – 2018
Ali Lyons (Fritzi), Lucy Carolan (Sophie) & Eliza Wardell (Hanno) have all been cast in lead roles in this new feature length animation film called "Fritzi: A Miraculous Revolutionary Tale"
DETAINMENT – DOCU FILM – 2018
The premiere of "Detainment" takes place on January 18th. Caleb Mason plays the role of Jamie Bolger in flashback scenes of when the toddler had been abducted
MOTION POEMS – SHORT – 2018
Jacob Mason has the lead role in Motion Poems directed by award winning film maker Kate Dolan
SMYTH'S CATALOGUE – PRINT CAMPAIGN – 2018
Grace Reilly was featured in the Smyth's Catalogue. Ryan Clark was also cast
BRIGHT SPARKS – RTE JR. – 2018
Robyn Dempsey will be appearing on "Bright Sparks" a new RTE JR series
GLENISK – ADVERTS -2018
Billie Barrett has been asked back to shoot more Glenisk adverts in Belfast
https://www.leinsterleader.ie/news/home/293644/kilcullen-s-billie-barrett-10-to-star-in-glenisk-s-irfu-campaign.html#.Wmr7fivlzgs.twitter
RED ROCK – TV 3 – 2018
Be on the lookout for Aaron Lochart who will be reprising his role as Jesus in the coming weeks
RSA – ADVERT – 2018
The RSA Advert featuring Aleah Lennon & her Dad David O'Neill has been renewed
KERRY GOLD – ADVERT -2018
The Kerry Gold Advert featuring Amy Moran for U.S.A. & Canada has been renewed. On our recent trip to New York we were delighted to see this ad on the TV.
KATE LAFFAN – MUSIC VIDEO – 2018
Jacob Mason, Phonsie Wardell, Dylan Brady & Zachary Bolger are featured in the new Kate Laffan music video. It recently premiered at the BT Young Scientist & Technology Exhibition
CAN'T COPE, WONT COPE- TV SERIES – 2018
John Dalessandro has been cast as the Bouncer in series 2 of Can't Cope Won't Cope
PEACE PROMS – TOURING SHOW – 2018
Katie Weir will be part of the Peace Proms touring show where she is lead vocalist. Katie also performed at numerous events throughout the Christmas period including the National Concert Hall with Rathfarnham choirs. She also sang with The Garda Band & at the National Concert Festival
TIDES – SHORT FILM – 2018
Several of our Clients are in new short film TIDES. Directed by Zoe Kavanagh, this film features Johnny Ward, Finn Murphy, Aaron Moriarty, Dylan Brady and his dog, Susan Bevan, Lorna Brennan, Kelsey Fallon & Brid Flood Moran
BECKA'S BUNCH – ANIMATION – 2018
Susie Power is still recording voiceovers for upcoming animation Becka's Bunch which will soon be on Nickelodeon. Susie voices "Sylvia"
AN POST – ADVERT – 2018
The "Nala" An Post Advert featuring Jasmine Brady has been renewed
KILDARE VILLAGE OUTLET – PRINT CAMPAIGN – 2018
The Kildare Village Catalogue featuring Katie Weir has been renewed. She features in the Cara magazine on Aer Lingus flights
THE GIANT PEAR – ANIMATED FILM – 2018
Susie Power plays the lead role of "Mitcho" in upcoming Movie "The Giant Pear"
BOY SAINT – SHORT FILM – 2018
Lenar Gaffney has the lead role in upcoming short "Boy Saint". Lenar was picked out of thousands who attended the auditions
NEW YORK CONSERVATORY OF DRAMATIC ARTS – 2018
Daniel Goulakov, Emily Gallen & Ella Doorley have been accepted into the New York Conservatory Of Dramatic Arts. Daniel received a $15,000 Scholarship for the 2 Year Course. Emily & Ella received scholarships for the Summer Course
ELLIE – SHORT FILM – 2018
Susie Power is featured in new short film "Ellie" directed by Tim Laubscher
https://www.facebook.com/tim.laubscher/videos/10214342320257133/
KILDARE VILLAGE – PRINT CAMPAIGN – 2018
Katie Weir has been renewed